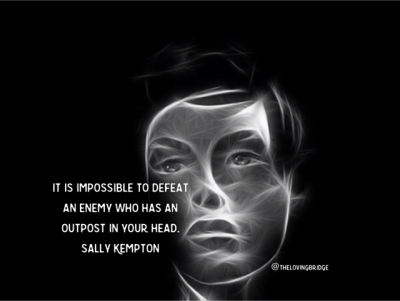 Have you ever been overwhelmed by emotion and you cannot understand where it came from? Have you ever been dragging yourself through the day overcome by tiredness after a great night sleep? Could you be tapping into the universal mind and carrying unhealed emotions from the collective?
Tears kept pouring; the shroud cloaked me in a heavy sadness.
"My bags are already at the terminal, along with our weapons, Mom. I report in tomorrow. The US Marine charter scheduled for transporting troops to the Middle East will leave at 18:00 hours."
Deployed – a mother's nightmare. A wife's unfathomable sadness. I didn't even have a story running through my head. My mind was quiet. I knew in my heart and gut my son was safe. The tears still flowed.
Where did all that deep penetrating sadness that robbed me of my usual peaceful existence come from if my mind was quiet? After I had asked that question a window opened in my mind's eye – I saw women, many, many women, in fact, I could not see the end. They had different color skin, small, tall, all dressed in black. They appeared old and young. Although it seemed they came from all cultures, I sensed they were imprisoned in a unified field because they shared one thing – helplessness.
Who were these grieving women? Mothers, wives, daughters, grandmothers, sisters, nieces, godmothers, daughters-in-law and daughters-in-love.
Regardless how they worshiped the divine, Holy Spirit, Jesus, God, Buddha it didn't matter, fear encapsulated their hearts while their men went off to war. Swollen puffy red faces from tears did not wash away the agonizing terror that gripped their hearts. They knew some brave warriors would never return home to their empty arms.
And that is not any different from the women who have lost their men from an accident or an illness. And let us not forget the women and men tortured and killed for just being different.
And I am not proposing that only women suffer, men do too.
But in this vision, I seem connected to women through all time who have felt the tragedy that death brings to their family, regardless of the circumstances. Were these images embedded in our history, as far back as we know? Can we consider that these helpless feelings are in the feminine archetype?
Can you step away from these memories and look through an observer's eyes? Think of these stories as a movie projected onto a 3D IMAX screen. What will it take for us to transmute these daunting feelings and emotions carried by the collective?
In the days that followed, I wrapped a yellow ribbon around an old oak tree. I wept while I wrote the blog. The soapy dish water collected my tears. I seemed to be drowning in a collective dark abyss that swallowed any sparks of light.
Then my dearest friends: Eileen and Bev stepped in. I am forever 'greatfull'. They helped me find my breath inside that suffocating collective energy. Together, we embraced the feminine archetype. St. Germaine joined us while we sat inside the transmuting violet flame. Eileen commanded from her heart that all the feelings of helplessness that flowed around us to move into the light. We became the observers. After a long sleepless week, I finally stopped holding all that fear in my energetic field.
Rev. Michael Beckwith said, "F-E-A-R: Forget Everything and Run or Face Everything and Rise. The choice is yours!" What will it take for us women to rise and say ENOUGH?
Enough, enough, enough!!! When I have focused my attention on fear, what did I see in the mirror? Of course, more fear.
When we ponder our blessings with a 'greatfull' heart that shifts fear too. Gratitude and fear cannot occupy the same space.  I wrote down blessings on pretty pieces of paper every day and filled my two gallon gratitude jar. Each day my light got brighter, my faith stronger, and I remembered all is in divine order.
Today, I walk in the light inviting women everywhere to let go the suffering and the helplessness that we carry for our ancestors. Know that each person was created from Divine love and was loved.
Do we need a major tragedy to finally learn that all those differing opinions do not mean a thing if we are not safe and secure? Together, can we put our attention on celebrating our differences without expectations?
I believe that someday we will all have had enough. And know we are enough! Then we will witness peace in our hearts and see that reflected in the world. For this profound vision, I am greatfull.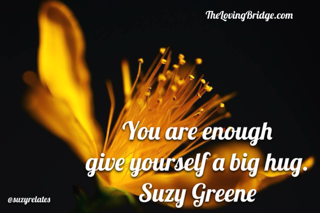 Right after I wrote this article my friend Cathy sent me a link: Today I Rise. This beautiful four minute film is like a love poem to your heart and soul. It is the exclamation point after Enough! Enjoy!!! http://www.filmsforaction.org/watch/today-i-rise/
By: Ascension Lifestyle Contributor Suzy Greene
Suzy has been seeing and hearing Spirit, Jesus, angels and the ascended masters since she was a young girl.  You can follow Suzy on social media @TheLovingBridge. Learn more about her books, sign up for the weekly blog or request a private session: http://TheLovingBridge.com