The Earth has given many gifts for man to use. One of the major tools given to us are the plant medicines. These medicines are of the Earth herself and the aroma produced by these plants help place us in a different state of mind thus bringing us into a deeper part of ourselves. Then, as we let go of the mind and connect the body to the Infinite Now, the scent may inspire memories, awaken the soul and give a sense of direction. There is a spiritual connection that we have to smoke that draws us toward using it to represent delicateness of the soul.
If you were exposed to any type of religion growing up, you probably witnessed the ritualistic use of smoke in ceremony. As a former Catholic I was around frankincense and myrhh burning during Sunday mass. For others it might have been smoldering incense at a Buddhist Temple, or the spiraling tendrils of bukhoor in a mosque.
Many cultures and religions use sacred smoke made from the plant medicines in various ceremonies for various reasons. The ceremonial smoke tradition dates back millennia and connects all traditional cultures, from the Native Americans to the Druids, from the Zulus to the Maoris, from Aboriginals to the Mayans, from the Chinese to the Balinese, which have age-old forms of cleansing and blessing rituals. In ancient Greece, smoke formed part of the rituals to contact the dead, following long periods of fasting and silence. Their sacred smoke was born out of sulphur and minerals in lieu of herbs to part the veil between the worlds of the living and form a bridge to the other world.
One of the earliest recorded uses of ceremonial smoke can be traced to ancient Egypt where herbs were burned in religious ceremonies. It is mentioned on an inscribed tablet that was found at Giza, Egypt, in about 1530 BC. The Babylonians used smoke extensively while offering prayers or divining oracles. It was imported to Israel in the 5th century BC to be used in religious offerings. It spread from there to Greece, Rome and India, where both Hindus and Buddhists still burn it in their rituals and at festivals.
Based on this rich and long history, ceremonial smoke can be seen as a Universal truth that runs through and connects all cultures, religions, time frames and places. Only among Indigenous or First Nations peoples is this called "smudging".  The American English term "smudge stick" is usually found in use among non-Indigenous people who believe they are imitating North American Native ceremonies. While many non-Native people admire and are drawn to Native culture and ceremonies, we strongly encourage non-Natives to come up with their own, personal ceremony that reflects their personal spiritual beliefs and practices.
Healing powers of plants and herbs is universal and across all continents, the only difference is that not all plants grow in one region. People usually utilize the plants or herbs that are abundant in their region
While much is written on the use of smoke ceremony to cleanse negative energy, another one of its common uses is to bring vision, aided by the sense of smell. Smoke ceremony is also used to purify tools and people before important spiritual rituals and ceremonies. It is also used to clear sacred space and open the soul before calling upon the Spirits and their healing powers.
There are Four major medicine plants used in a majority of North American indigenous cultures;  tobacco, sweet grass, sage and cedar that are used frequently in ceremonies.
In First Nation tradition, smoke is a medium between the higher realms, creating a good space for positive spirits and removing the negative ones. Smudging is a ritualistic burning of herbs and plant resins in a shell or clay bowl during which prayers of gratitude and well-being are chanted out loud. Traditionally the smoke is fanned with a treasured eagle feather directed over a person throughout a living space. This is done to wash away spiritual impurities, that are present in an individual or space.
This is often done before a ceremony or special gathering, after an argument (to literally "clear the air"), when moving into a new home, at the end of the cold season to re-invigorate one's living space, and healing sessions.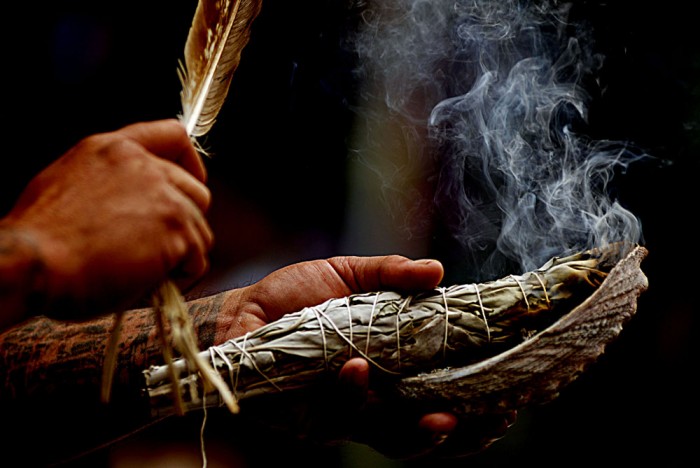 Many Natives believe the the process of smudging enhanced their senses and in some cases altered the state of consciousness for Shamans and Medicine Men to assess and treat illness. The smoke was believed to remove impurities to allow the healing process to commence. It was believed that as the smoke rose, prayers would also rise to the Spirit World taking the negative thoughts and emotions away with it. It is said that the herbs for smudging have antiseptic qualities and the process of burning purifies the air. Traditionally, Native American smudging rituals included rites of passage such as the Vision Quest and preparations to ceremonies such as the Sun Dance. There is much subtlety to this practice, and its potency reveals itself in the experience as you work with it.
The materials involved each have their own symbolic meaning, honoring one of the four elements, which is a common recognition among many Native American Americans.
The shell or clay bowl represents water
The herbs and resins represent the earth,
The feather and wind it creates represent air
The flame used to ignite the herbs represents fire
The herbs:
Sometimes only one specific herb is burned, but often a carefully prepared mixture is created. The most common herbs used for smudging among Native Americans are white sage, sweet grass, tobacco, and cedar. These are also four of the most sacred plants in this part of the world.
"Sweet grass grows high in the Rocky Mountains. A gift from the creator, it is said this grass never dies. It is one of the great smells reminding us of the mountains and open air. Sage is the cleanest smell of the desert. It is also a present from the Creator. Tobacco is another gift. Our thoughts and prayers are carried on its smoke. It carries the two great smells of the mountain and desert. It is a visual representation of our thoughts and prayers being transported."
– John Joseph, Chinook Shaman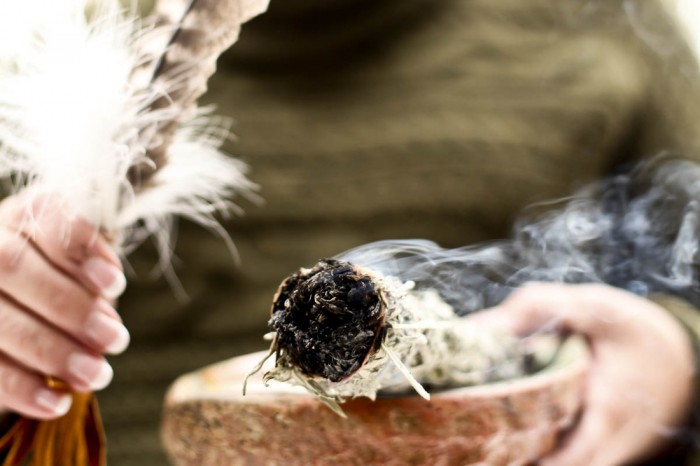 A Smoke Ceremony Practice To Try:
Have a pure and focused intention while you perform a smoke ceremony. Before you begin any purification ritual like this, make sure you're fully present.
1) You'll need: a clay bowl or abalone shell, a stick of wrapped herbs or a few leaves of your dried herb of choice (or a blend), a flame, and an open hand or feather.
2) Gently separate any stems or buds from the leaves of your dried herbs (only the leaves or blades are used in this process) if using loose leaf. Then place the leaves into your smoking vessel.
3) If you are inside, open the windows in the space you are in, creating a flow of air from outside.
4) Using a already lit candle, ignite the herbs and let them flame for 20 to 30 seconds before sweeping your hand above them to extinguish any fire. Tendrils of smoke should be steadily rising from the smoldering herbs now.
5) It is customary to cleanse oneself first before moving on to others and the surrounding space. Using a cupped hand, draw the smoke around you. Starting from the top, bring the smoke over and around your head, down your torso, all the way to your feet. Make sure to pay attention to your breathing while doing this. Slow and relaxed.
6) Once you are finished with yourself, use your feather or hand to waft the smoke gently into the corners of the room and over any plants or pieces of furniture. As we light spirit smoke, we need to be present and aware of how it moves from one place to the next.
7) Once you have finished your ceremony, tradition tells us that the ashes of the spent herb should be brought outside and returned to the soil. Many tribes believe that the charred residue carries its own energy and must be given back to the earth.
A Native Prayer you may borrow while smudging:
Creator, Great Mystery
Source of all knowing and comfort,
Cleanse this space of all negativity.
Open our pathways to peace and understanding.
Love and light fills each of us and our sacred space.
Our work here shall be beautiful and meaningful.
Banish all energies that would mean us harm.
Our eternal gratitude.
– The Medicine Wheel Garden, E. Barrie Kavasch
 

Order your Ascension Lifestyle Smoke Ceremony Kit today!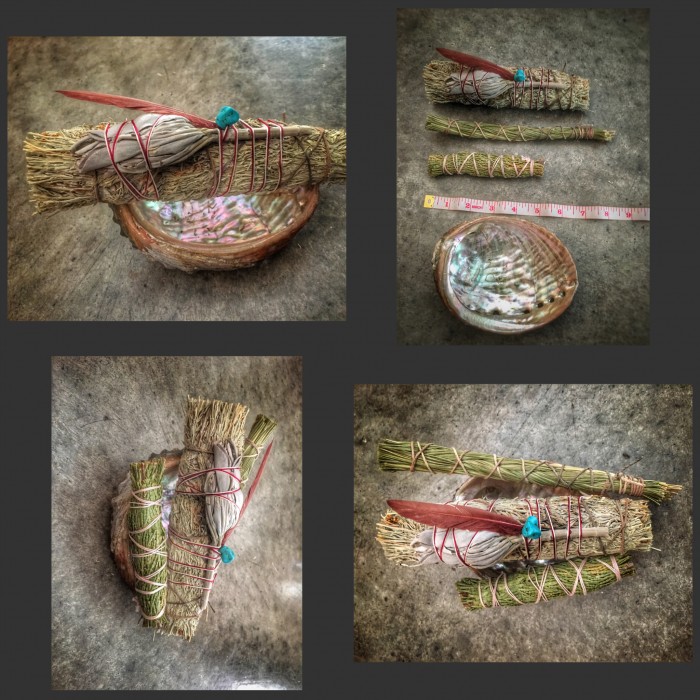 Each Complete Ceremony Kit contains:
• Large Abalone Shell
• Blue Sage with White Sage Stick (hand-wrapped with hemp twine and Ascension adornments)
• Ancient Cedar Stick (hand-wrapped with hemp string)
• Sweetgrass Stick (hand-wrapped with hemp string)
This collection of powerful plant medicines was put together with the purest high vibration intentions.
Blue Sage with White Sage is for healing. Sage is used to bless, cleanse and heal the person or object being smoked. Sage is often used to metaphorically 'wash off' the outside world when entering the home or sacred space.
Cedar is a protection medicine. Trees are old, wise and powerful spirits and Cedar is often used to cleanse and protect a space when first moving in. You may use Cedar to respectfully ask unwanted spirits to leave and ask for protection for a person, place or object.
Smoke of the holy Sweetgrass (Seneca grass) is the breathe of Mother Earth. It's rich, sweet, aromatic scent is an acknowledgement of the essence of the divine feminine and a reminder that Mother Earth provides us with everything we need.
Together this Ascension Smoke Ceremony Kit will purify, protect, cleanse and give thanks. It's the perfect addition to your alter or spiritual space. $28 includes free priority shipping.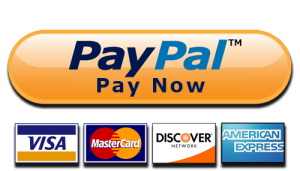 Orders will be processed within 3 businesses days and sent out via Priority Mail. You will receive a tracking number once the kit is shipped. Email Ascension with any questions.