Ascension Lifestyle is excited to share the amazing adventure of Ryan Sharkey. If you haven't read the beginning, check it out HERE.
We'll start off with some answers to the most commonly asked questions, then dig into the journey:
How do you travel? I travel by skateboard and hitchhiking. Literally skating down the road with my thumb up!

How do you eat?  I eat mainly by fishing and foraging for berries, herbs and other vegetation.

Where do you sleep? I sleep in a hammock in the woods.

How do you connect to the internet? I have a cellphone (without service) that connects to wifi. When I'm able, I head into a town and spend time at coffee shops or other spots with free wifi. Some people have even gone as far as to take me in for days at a time and feed me, give me a bed to sleep in, ect. Sometimes I work for a place to stay and food at peoples houses that offer work for stay. I have a 40 pound bag with supplies to live in the wilderness. I have not spent a penny since I started my journey.
But let's start back at the beginning…
I was very little prepared for the very cold, rainy, sleeting nights of Kansas. They were not expected because after all, it was May. I ended up having to swim across the Cheney Reservoir, skateboard, and hitchhike to the next town. Which was Hutchinson, Kansas. I almost got raped by a trucker trying to get a ride but I got away for I am 6'5 and a fairly strong guy.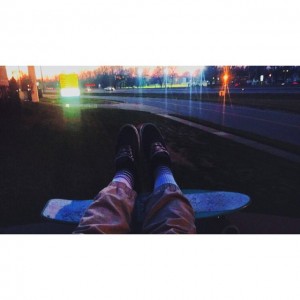 I skated and attempted to hitchhike, but hitchhiking is illegal in Kansas and it was very difficult so I ended up skating a very long way (about 40 miles). I finally met a man who gave me a ride to Dodge City, Kansas in exchange for cleaning the shit out of horse stables. I ended up hiking through Kansas following the Arkansas River where I was stalked by coyotes and discovered by a bear.
Day 21: I skated/hiked all the way to Garden City, Kansas where I got a ride all the way to Lamar, Colorado and I was then given a bus ticket to Pueblo, Colorado where I met Bear Grylls medic, Eric Miller. Eric took me in and I slept in his limo for 9 days. He also took me up in his helicopter, hiked up Pike's Peak with him, and climbed around at Garden of the God's. Eric treated me like family. He has his own foundation called the Rush-Miller Foundation where he gives tandem bicycles to blind kids family's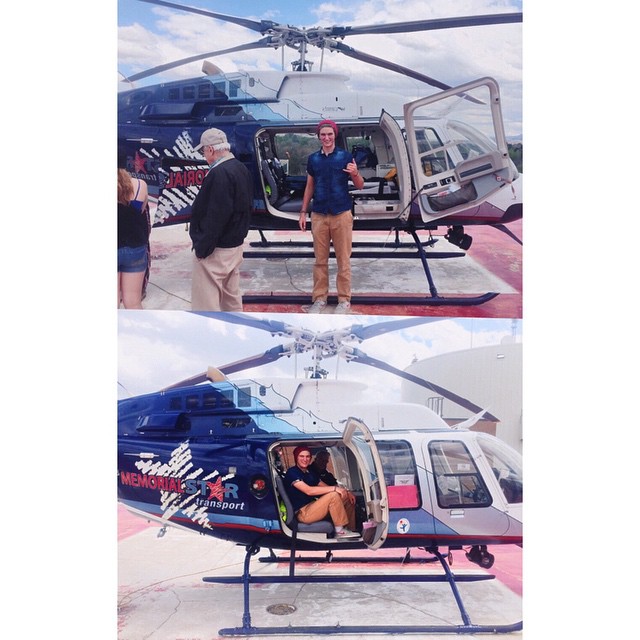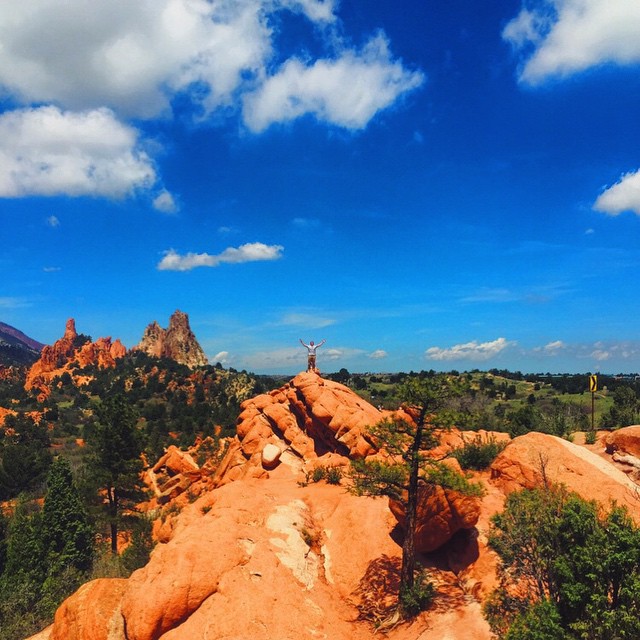 After my amazing time in Pueblo, I rode my skateboard/hitchhiked to Salida where I ended up white water rafting through the Rockies in the Arkansas River and climbing 2 mountains!! I met beautiful people along the way.. staying in Crestone (worked in the hemp fields for stay and food), in Durango (shot guns, went kayaking, and went to a carnival), and Silverton, Colorado.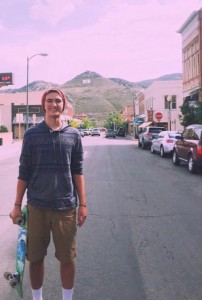 After leaving Silverton, I  skated down the million dollar highway where I fell on my skateboard and my bag ripped, causing me to end up losing my fishing pole and sleeping bag. I picked myself off, reminded myself of how incredible my adventure had been so far and headed toward Telluride, Colorado. While there I worked at a Bluegrass festival, picking up trash for free entry. After leaving Telluride I traveled to Grand Junction, Colorado where I visited a Buddhist Temple. Afterwards, I hitchhiked to Breckenridge, Colorado on I-70. A homeless man showed me a tipi right outside of the town of Breckenridge, and there I slept.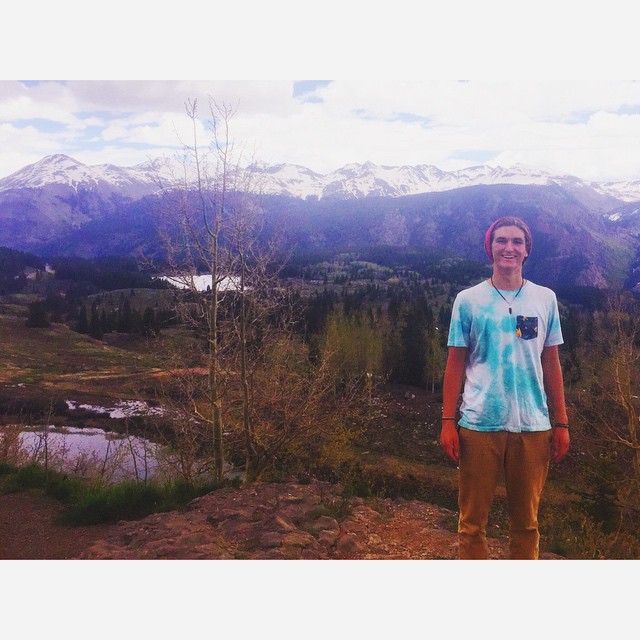 Greetings from Breckenridge, Colorado Day 40 of living without money
In Breckenridge I met 2 semi-pro long boarders and avid stoners who drove me from Breckenridge all the way to Goldendale, Washington in their Mustang to a long boarding event called Maryhill. I helped set up for the event and partied with pro long boarders from all over the world who loved my story.
It was then off to Portland where I stayed with a man with a self-sustaining farm in the small town of Boring, Oregon that he built himself, with a windmill and solar panels. I even participated in the World Nude Bike Protest where there were 10,000 nude bicyclists riding around Portland. I of course do not have a bike, so I rode my skateboard nude.
I from there stayed in Salem, Oregon for a few days because I got sick. From there I headed to the coast. I stayed in Yachats, Oregon where I stayed for 4th of July. I enjoyed myself living in the woods on the coast. Using the large rocks and the forest as a jungle gym and catching plenty of fish and finding vast amounts of berry's.
From Yachats I headed to Florence, Oregon where I stayed in the woods by a lake for a week and found lots of mushrooms. I met a man who bought me tickets to The Oregon Country Fair for 2 days and I met a lot of fellow travelers as well as many people who loved my story.
Since then I have been hitching down the coast during the days and wherever I end up by night I just set up camp in the nearby woods by the road. I just got to Cali three days ago. In Ukiah I met a man with 150 HUGE illegal marijauna plants that I watered for food and stay last night.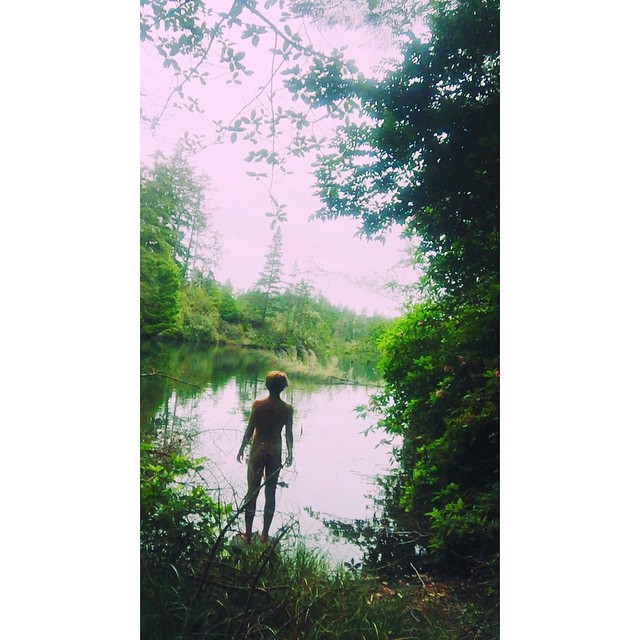 I have been living completely without money for about 3 months now.. 3,000 plus miles traveled – Saint Louis, Missouri to where I am currently Florence, Oregon. I have found true happiness and peace of mind in the beautiful vast pine forest on the west coast.
I am headed to San Francisco Currently and I should be there either today or tomorrow.
Whew! Unbelievable. Catch up with you all soon!
By: Ascension Lifestyle Guest Contributor 
Ryan Sharkey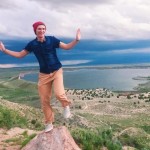 Ryan Sharkey is a free-spirit in a material world who has found a way to get out of the rat race and experience life the way it was meant to be lived.