Metempsychosis is the belief that after physical death, the Soul begins a new cycle of existence. This is a freewrite describing the guilt that I get overwhelmed with from time to time due to my mind evolving at a faster rate than my personality can keep up with..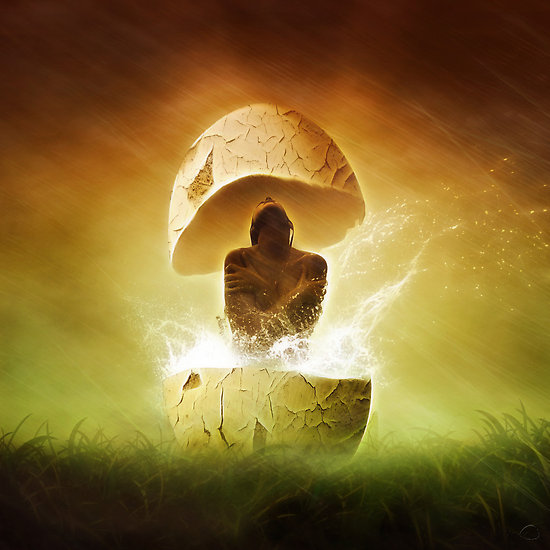 ~~Metempsychosis~~
when in this life-love fight
will my wings unfurl to give me flight?
Guilt
gives downy-soft feathers
a weight greater than a man who cannot cry
I've been blessed with wise eyes
but within the power of wisdom
lies danger though
hidden, dissolved in the fear of heights
not heights that can be measured in inches or miles but
the kind that is determined by a different kind of elevation
the kind brought by REVELATION
This height gives new meaning to my existence
but my fear of these heights
is only the seed… of my fear of failure
because the glow of my aura and the
ripple of my contribution
is paled in comparison to my
self-projected moral obligations
responsibilities of a magnitude unparalleled
Each one Teach one
is the lesson I learned first
for even in this freedom I find chains
my complexities are profound even to myself
LIVE self-less GIVE
Like the tempering of my glass spirit
heated and cooled again
melted and hardened
Reciprocity lost
within the chasms of my unexplored cerebral acreage
My mind evolves faster than my physicality
Cant keep up this phasad –For long
Iím strong but wrong
Why does my will forsake me!?
Survival is without consequence to my physical manifestation
Where in this earthly school did I learn to disregard my hailed intuition?
How did I let the powers that be… be?
No remembrance of bowing
I recall not the surrender of my
Soul
Was I asleep during this final count?
Gravitational poles reversed
Iím looking backward at a stagnancy
that my will has lost the power to fight
Clock ticking – Freeze framed..
I sit… And lie… And sit again.
Mind empty
But strangely with no — more — room
I canít believe emptiness takes up so much space.
I strain and I strain..
For my wildest imagination to show me a future
even as close as… Tomorrow
Then again
the Gift is given..
TOMORROW
Yes it can rhyme with Sorrow if let
or it can close the door on regret
each awakening is another chance to do just that
awake!
The reincarnation of my conscience gives me
the re-creation of my perception
now my Soul-Sight is reaching out towards 20/20
Visions of Evolutions birthed, and rebirthed
upon the outer layers of my
inner-ness
Spiritual prisms reflect the multiple facets of this sensory-laden Woman
that glow richly —
wet with the weight of my femininity
A power as great as the methodic tides that my
Cancerian moon directs
These eyes have seen the Glory
Of the coming of my
Completion
Ever moving, ever growing —
Abounding within my species
Is the innate instinct of
completion
We WILL become whole
as the
Sun that resides within the latent power of my womb
An energy of a prophetic magnitude
Our souls
Our souls have a capacity much greater than one lifetime
Evolution of the Spirit is the ABSOLUTE power of humanity
I listen..
And breath in the unexpungable sky…
The thought of Jah
Is dew on my head..
©Phenomenality
http://www.twitter.com/phenomenality