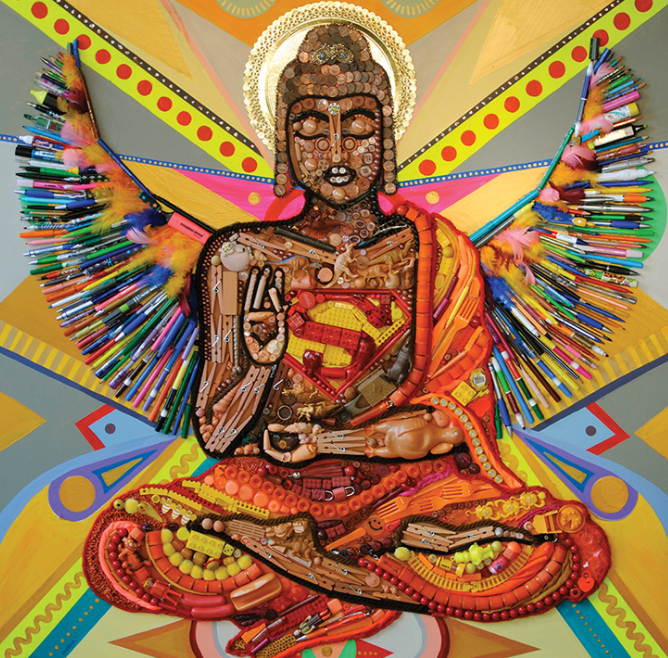 Photo: "Superman Buddha, Force Within" by Elisa Insua
BY MUSHIM PATRICIA IKEDA
The following is a summary of the many vital points that were struck in the author's article. You can read the full article here.
SUMMARY
This article speaks to many of us who spend our time fighting for social causes in whatever form be it art or activism. The main point of this article is that it's not enough to help others, you have to take care of yourself as well. You can devote your undertaking to noble acts of divine providence in the interest of care for one's fellow man/woman. Yet since these expressions of good will ultimately emanate from the self, or that which is housed in the self, one can agree that you have to take care of yourself before or while you help others. These deficiencies in self-care can spill into the great work you're building toward in your professional, artistic, activist, and duty driven life choices.
For those of us with a calling to raise the bar for community and humanity, Ikeda explains the importance of pursuing systemic progress, grow and deepen spiritually, and care for one's family without burning out. The key explained in more detail is that one has to create more forgiveness for not meeting all your expectations, and spacious schedules of spiritual practice that value being well rested. Rather than getting caught up what isn't working in your life, one should focus living a sustainable lifestyle, physically, emotionally, financially, intellectually, and spiritually. Self-care, healing, and attention to the body and spiritual dimension are important to any spiritual/social justice leaders.
Spreading of knowledge and wellness is a group effort. It takes many people aligned with the same progressive stance to push forward in the spirit of progress. Thich Nhat Hanh has said that the future Buddha Maitreya may be a community, not an individual, Communities are in need of inventive ways to carve out spaces for wellness, and this article will shed some light on it.
Subscribe to our newsletter for more Ascension written or & Ascension curated content for your well being.