Joseph Campbell's analogy of the Hero's journey is a process consistently portrayed in many myth's and stories, all of which uniquely reflect the endearing trials of the human condition through one tale or another. The hero's journey myth is reflected in all cultures and time periods because we as human beings reflect on our world through symbolic stories of our own lives. This is why films like Star Wars, Harry Potter, and the Hunger Games do well in the box office because they all have that visceral appeal to our subconscious desire to be the hero's of our own lives.
The process of the hero's journey is to leave your comfort zone, have an experience that transforms you, recover and then do it again. As you solve bigger problems and take on more challenges in life you grow stronger until the end of your days as a wise old man or woman. There is a hero in all of us waiting to take on the next journey. You don't literally slay dragons and escape tumbling boulders, but you face challenges in life that are just are nerve raking and threatening to the ego.
Before the modern era, many children especially young boys would go through a right of passage to become men. Cultures all over the world understood the need to force people out of their comfort zones to grow into adults. Now we push our citizens down a conveyor belt of mediocrity as they follow a script that was handed down to them by a society that wants them to play a role in this drama with terrible script flaws.
Shakespeare famously said "All the world is a stage" but the truth is, we don't need to perform, we just need to live authentically through our heart space. We sacrifice our true nature in order to make the safe bet, only later to have a mid life crisis, unsure of how to fill this void. We aren't trying to sound negative here as this might not apply to your life, but many people are faced with this reality. 
"The cave you fear to enter contains the treasure you seek" Joseph Campbell. Ask yourself, what is the symbolic cave that you fear to enter? This could be leaving your job, starting a business, moving away, starting a new relationship? Listen to your call for adventure, accept the challenges life brings you and conquer your fears. Claim the treasure you seek because nothing is more precious then the gems of wisdom you collect in life.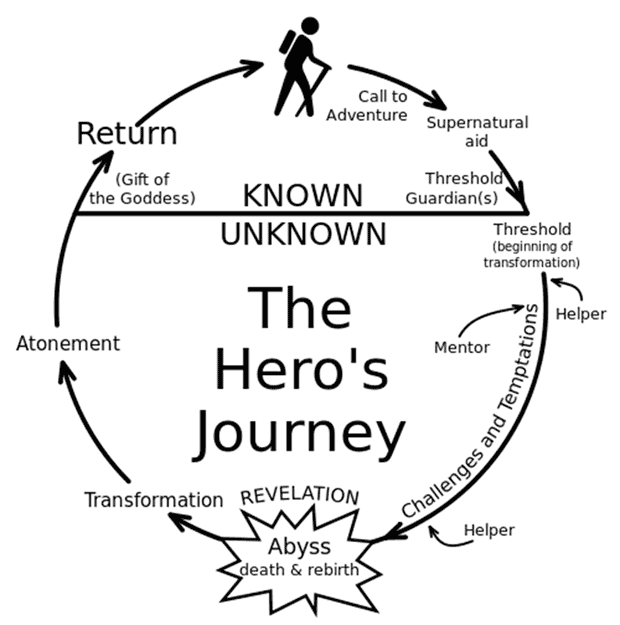 In the video above, Corey Sheikh mentions that what stands out in the hero's journey process is that you aren't truly in control of the majority of what's going on because you're merely along for the ride. Although you're in it, you also have to stand back and watch it so you can have a more objective perspective of all the variables within and outside you that are navigating your life's trajectory. 
As Corey said, "this is the nature of the battle between the Ego and God." In our world we behave as if man has taken over, as if man is the God. We act like man is the creator and has all the power simply because we have failed to take a more objective perspective of ourselves.
"This mentality is causing the pillaging of our world and the raping of our nature." We have long exiled ourselves from wholeness and nature, and who but an exhale would risk destroying it through pollution and war? We have become a society that wants to control rather than harmonize.
We cannot master our existence if we are control freaks. Sometimes we feel like we are Gods who have control over reality, control over others which is not in it's truest sense what this reality is. This is not what God, the Universe, or Source if you want to call it is. None of these are about control, they are about harmony. The truest Source of God in the Universe is one that allows for effortless flow. Similar to the process and evolution of nature, things just happen as they should.
Many enlightened people are living in a space of abundance without the need to control and have dominion over their environment and other people. They don't feel the need to have power and manipulation to thrive. We think we have control over our lives yet every time we put forth a plan it doesn't always manifest in the exact way we envisioned it, even when they are seemingly successful. Sometimes we just have to let things play out as they should, doing our part to make it work, while refraining from trying to make it perfect through our subjective understanding of perfection. The key is to let go of control and trust the process.
Mastering our destiny is something that we all want as human beings but to the awakened hero, when you master yourself, your destiny will reveal itself. You won't have to master the outside world because your alignment with it will allow things to fall into place. Once you remove the things within yourself that are stopping you from fulfilling your role in this life time, the desire to control what's outside of you will diminish because the universe will reward you for being yourself. It will reward you for living authentically through your heart space. When you are aligned with your heart space you become less focused on the need to satisfy the ego. It may give you the illusion that you're in control but you have really simply sunken into the destiny that you have ready for your embarking, the destiny that is meant for your uniqueness as a human being.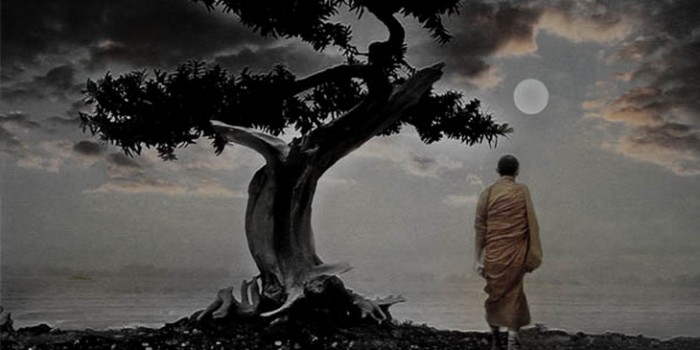 Joseph Campbell's concept of the hero's journey is about our destiny because destiny is something we are meant to pursue. It is something that brings us closer to our highest self. It is not a hard-set path that we must take but rather a journey that will bring out the best in us. What you're destined to do opens your eyes to the most profound epiphanies about yourself, your surroundings, and your purpose. The journey of your destiny may be rough but the lessons you learn from your experiences on this path will be life changing, contributing significantly to your personal development. Like a car getting a green light at every approaching intersection, sometimes the Universe can open the doors to your higher potential, clearing the way for you if you chose to follow your destiny and let go of what holds you back. The more you let go, the clearer the road becomes.
As Corey said in his video, this allows you to understand and be ok with where you are in life. If you are in this state awareness with the acceptance of the space you're in, things will unfold for you in the most profound ways. You won't need to control anymore, you won't care to because you'll trust where the current is taking you as things manifest in divine perfection. It's only when we are in that space of feeling that things are not perfect that we feel we need to control things.
Thanks for reading. Subscribe to our newsletter below to be notified of new articles.