Some years ago, when I just started dating my husband, on his birthday party I met many of his friends for the first time. All of them were just normal. Jokes, smiles, excellent social skills.
Except one.
He was sitting next to me. He was silent and kind of antsy. He talked to me under his breath. Not because he didn't want somebody heard us, but because it was the way he used to communicate.
Later, having a conversation with my husband, I called that guy "quiet psycho".
It was years ago, and I was chatting with my closest person. So, I let myself be outspoken.
But if it happens today, or I need to tell that guy my opinion, I'd say he is peculiar.
"People don't get better, they just get smarter. When you get smarter you don't stop pulling the wings off flies, you just think of better reasons for doing it." — Stephen King
People like to label.
Actually, it is the way we protect our small world, keep it intact and convince ourselves, our life path and our behavior are the most correct and healthy.
Remember, how being kids, many of us huffed the weak ones?
It too was a protection. In a world where strength and coolness were critical.
The boys were on the watch near the school for nerds to thrash them.
They say the main goal of such acts is an affirmation. Partly, sure.
But any violence comes from fear. Children facilities, insecurity, fear of the unknown.
Generally, such behavior (I mean fighting) disappears along with growing up.
But not the fears.
Surprisingly, but becoming adults, instead of becoming stronger, we accumulate the fears, we catch them from other people, we grow new ones and start to strengthen the walls of our fortresses.
Now we understand we couldn't kick (we could, but the rules, and public opinion, and…) somebody's ass just because we don't like her or him.
So, we choose the safe way. The way where we always could take a step back.
We say "You are peculiar."
Today we call "peculiar" that kind of guys which years ago we easily called "goosy" or "soft-headed" in their faces.
It is a proper word.
The word which has no clear meaning.
The word which definitely doesn't push you to the wall.
When I hear it, I laugh in my beard, refreshing in my memory our children's games, when someone touched the "thing" and said "Base!"
"People never grow up, they just learn how to act in public." — Brian White
Saying you are peculiar, we kill two birds with one stone. We secure ourselves, and we say nice thing to others. As anyone, called peculiar, could interpret this word as he or she wants.
It is ADULT word. Kids never say that.
"Peculiar" is a reverential "weird". That is what adults do.
We have forgotten how to perceive the world with all its intrinsic multiplicity.
That guy, from my husband's party? Was he bad?
Not at all.
He was polite and kind, but I felt uncomfortable.
Why?
He differed.
We, the aged children, are taught to meet the standards. To fit in.
We say neutral words just to not admit we made mistakes, not to get to know others, not to continue to explore the world.
Perhaps, we miss the best opportunities and – more important – the best people of our lives doing it.
Meanwhile, those "peculiar" people have opened their minds long time ago and stopped pretend to be those who they are not.
They live their lives. They are not afraid of being themselves anymore.
And others are simply envious of them. Of their ability to be true.
We all are peculiar.
Wrong.
We all are unique.
Melancholics and eccentrics, geeks and wallies, eggheads and dummies.
There is no need to label each other.
There is a need to get to know each other before making findings.
"How many colors are there in a field of grass to the crawling baby unaware of "green"?"
― Stan Brakhage
That is the art we had to draw from childhood. Not fears.
Let's listen to our inner child.
Let's learn to be yourself.
Let's accept others as they are.
Let's allow people be different.
 
Reader Submission by: Kate Maurice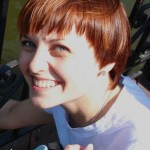 Kate Maurice is a freelance copywriter, the creator of online project http://pay4homework.com/, who is interested in educational problems in modern society and self-improvement techniques. Kate is a typical introvert. You probably find her in a cozy coffee house reading a book or watching people passing by outside.