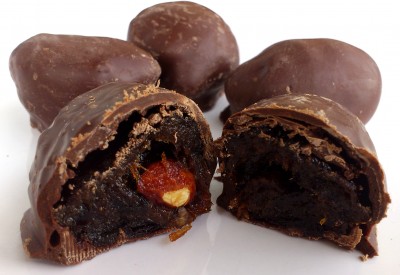 Chocolate Covered Prunes: Clarifying Your Intent
Driving to Oroville, a five-hour inland trek from the California coast, I was hot, sweaty and creased to the car seat. As I neared my destination, I passed a sign posted outside a shack that read, Chocolate-covered prunes. I broke up. This is an oxymoron!
Prunes are a biological green light. Chocolate is a red light. Eating the two together is a mixed blessing, likely to create a traffic jam in your intestines.
How many of us do this with our own health? Or relationships, business, finances — you fill in the blank. Perhaps you covet a certain plum account, person, dream house — then self-sabotage by "mixing it" with an action that aborts the flow.
So often it feels comfortingly familiar to live in tension, rather than live our highest intention. The latter begins when we're present in the moment. I saw a bumper sticker that read, "I'd rather be here now."
Eating chocolate-covered prunes, literally or metaphorically, is mixing oil and water. Oil and water each have their place, just not the same place at the same time. An excellent example of this is Aura-Soma, a form of color therapy. Aura-Soma uses a series of "equilibrium bottles" that combine two colors each, one atop the other. The colors stay clearly and vibrantly separate: oil and water. But when you shake the bottle, the mixture yields an altogether different result. The difference is one of intention.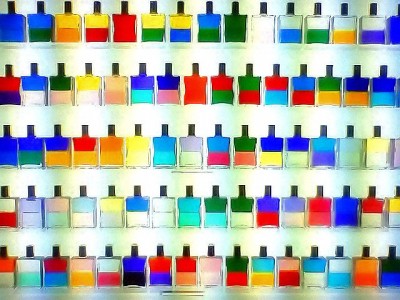 Learning to Hold the Both/And
At the turn of the millennium, following a labyrinthine healing odyssey, I understood I'd been eating too many chocolate-covered prunes — stopping the flow in my life by focusing everywhere but on what my heart was telling me I most needed to do. For me, this meant broadening my focus from marketing and content creation to life purpose guidance and speaking.
But it was still scary to take the plunge. So I kept eating chocolate-covered prunes: hiding out in my country cottage crafting blog posts and web content for clients, instead of getting up on stages and speaking my truth. It took me a while to begin to enjoy my prunes and my chocolate as separate but equal blessings.
Today, I continue to offer "business alchemy" for individuals and companies that want to align their vision and values to brand and build a conscious business, and enjoy serving in this capacity. And, my service has since taken another quantum leap on the Great Wheel.
Where in your life are you eating chocolate-covered prunes? Where do you need to come out of hiding?
I encourage you to embrace the both/and, to learn to hold paradox, rather than making either/or choices. A service position that fulfills your heart's call doesn't have to translate into a lean bank account. And you don't have to sell your soul to pay the mortgage! Conscious creativity — a willingness to think unconventionally — can yield remarkable results.
Consider: prunes are good for you, and chocolate is certainly a heaven-sent confection. You might eat prunes for breakfast and chocolate as an afternoon endorphin activator, assimilating the benefits of each. You'll enjoy the both/and, just not simultaneously.
As we practice bringing an inclusive rather than exclusive perspective into our own lives, we gift others by opening them up to grander possibilities as well.
The next time you're stuck in mental traffic, laugh. That has the same effect as prunes. Savor the sweet surprises life serves up to you every day. That's the chocolate. Experience each in turn, for their unique blessings. If you decide to enjoy them together, know that you're also choosing the end result. That's awareness.
When you've been driving down a hot August highway for five hours, just the thought of chocolate-covered prunes can unleash a delicious flow of sweet sacred laughter.
###© Copyright 2000-2016 Amara Rose. All rights reserved.
How do you clarify your intent? Join the conversation in the comments below.
About the author: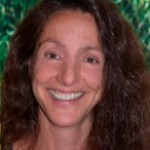 Amara Rose is a "midwife" for our global rebirth. Her services include transformational guidance, talks, e-courses, a digital download CD, and an inspirational monthly newsletter. She is widely published in health, business and new thought magazines, both digital and print. Learn more:
http://www.liveyourlight.com
http://twitter.com/Amara_Rose
http://www.facebook.com/LiveYourLight
https://www.linkedin.com/in/amararose